ALL-AGES COMIC-READING FUN!!!........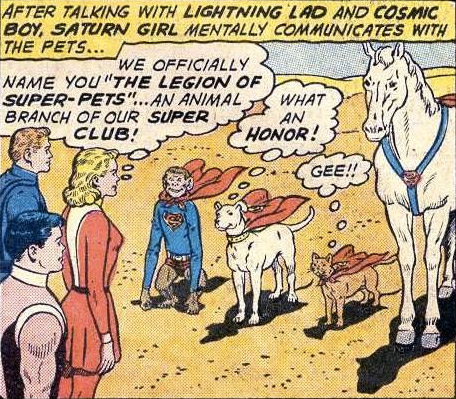 ,,,
FROZEN COMIC BOOK GRAPHIC NOVELS have hit the ground sliding.... into the top spot of BEST-SELLING ALL AGES Family Graphic Reading, leading a new breed of COMIC BOOK READING perfect for those new readers just getting into comics....
The questions were heard all over, " Is There A Frozen Comicbook? ", " When will they make a Frozen comic? ", "When does the monthly Frozen comic come out? "," Please, Please, A Frozen Comic, PLEASE?, I'm DYING For One!!! ? ".....
......& sadly, for the longest time...
.....the answers to these questions...[ "Not Yet.", "Probably, Yes", "Hopefully Soon", "Um,...Maybe A 12-step Program can help" ]......left us ALL 'a little COLD'.... :o)
FROZEN COMICS not only provide yet ANOTHER way to get close to those magical movie memories for those who's likes encompass all things 'Frozen', but some would say [ESPECIALLY PARENTS], of ALL the Frozen merchandise, of which IMAGE COLLECTIONS does carry the FROZEN STICKER BOOK along with the FROZEN stickers which go in it, the COMICS BASED ON FROZEN are the best!!!
Why, you may ask.....
****TOP COMICS SECRET REVEALED!!! below***
The FROZEN COMIC is OVER 350 PAGES, & just as dazzling as the film it was inspired by......
The 1st Ever FROZEN COMIC is now available @ Image Collections, COMICS / CARDS / GAMES Store, in Mississauga [Near Toronto], Ontario, CANADA [ph # 905-542-8307]....
We here @ IMAGE COLLECTIONS shouldn't be telling YOU this--we are going to be in SOOOO MUCH TROUBLE by sharing THIS!!!---NOTE: You didn't actally hear it from us, OK?....Not from our lips we didn't tell you...which is 'tech-true', as you are actually READING THIS instead of hearing it.....
HERE GOES: 'Image Collections COMICS SECRET #001' [...collect 'em ALL!...]
Along with anywheres from 24, 32, 48, 64 or 1286[!] PAGES, FANTASTIC STORIES of wonderments, & GREAT ART, all pieces of SEQUENTIAL ART, be they Graphic Novel, Storyline-Collection, GIANT-SIZED, DIGEST, in HARDCOVER, SOFTCOVER, or DIGEST are......
'VOLUME-HANDICAPPED-ENTERTAINMENT'....meaning PARENTAL-SANITY-FRIENDLY
.....It's not like your parents don't LIKE hearing the'FROZEN SOUNDTRACK' over & over & over again....it's just...they need a few days off every now & then, so please be kind to them. which is where the WONDERFUL WORLD OF DISNEY [& OTHER] COMICS come in to play... SAME GREAT FUN, just experiencing it WITHOUT complaints from the peanuts gallery!! :O)....
The FROZEN COMIC is OVER 350 PAGES, & just as dazzling as the film it was inspired by......
The 1st Ever FROZEN COMIC is now available @ Image Collections, COMICS / CARDS / GAMES Store, in Mississauga [Near Toronto], Ontario, CANADA [ph # 905-542-8307].....
CLICK the SIDE or TOP of THIS PAGE for MORE INFO....including OUR PICKS for some OTHER GREAT FAMILY READS such as PRINCELESS, AVATAR, BONE, & TINY TITANS!!!!.....
.
..........................
..........................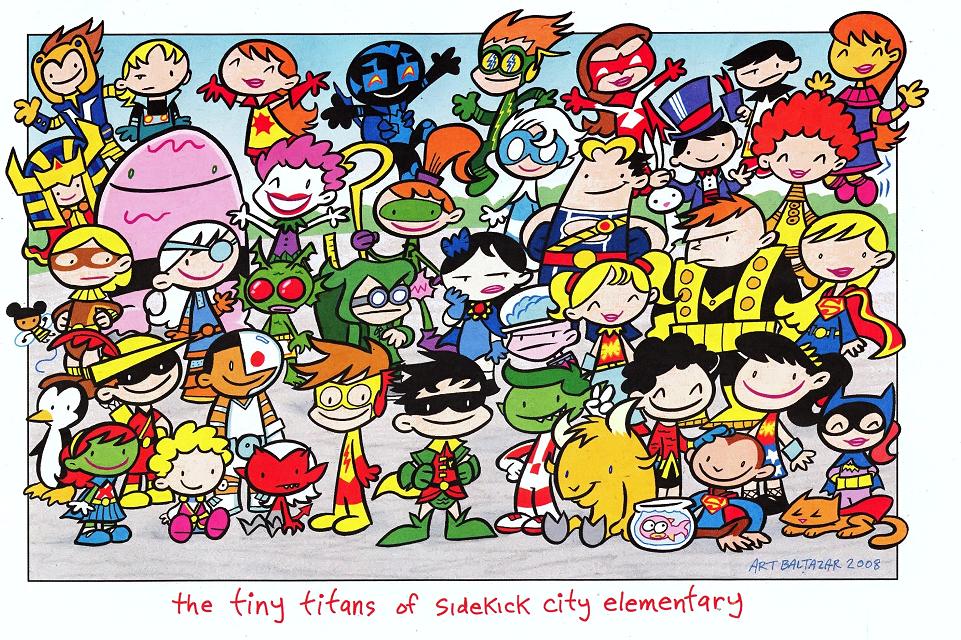 .
.
THE TINY TITANS are one of the cutest comic reads ever, putting the ever-loving TEEN TITANS characters all BACK IN SCHOOL with SLADE WILSON [known outside this title as not-so-PG-friendly] as the Principal!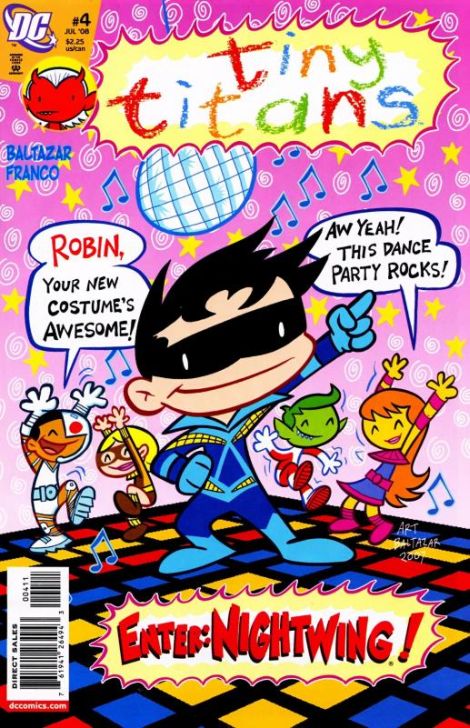 Combining constantly entertaining sight-gags with DC CONTINUITY LAUGHS, TINY TITANS is pure ALL-AGES-FUN, even pefectly suited to crayon in......
[...."ahhh, no!!" some say....
...WE SAY "AWWW YEAH!!!!"]...,,.
.
BATMAN 66, the new monthly title based on the 1966 TV Show 'BATMAN' is an excellently faithful continuation... SONIC The HEDGEHOG is the longest-running comic book based on a video-game character having almost 300 monthly issues so far....
ARCHIE COMICS most successful character not affiliated with it's 'real-life' comic world, SONIC continues to spread his [...& girlfriend SALLY's] energy & excitement to future generations eager to learn of his quests & alter-egos.....we mean YOU, SHADOW!
Over 20+ years of adventures are jammed into many different collections to make life easier for both beginners, parents, & long-time fans....
One of the best ways to start collecting comics [& get into reading them, of course ;o] happens on FREE COMIC BOOK DAY, every 1st SATURDAY of MAY, when SONIC is usually spotlighted in a FREE COMIC BOOK available especially for this day!!!...
To LEARN MORE about FREE COMIC BOOK DAY clicky here: http://www.imagecollections.ca/fcbd
ALL AGES neat stuff here: http://www.imagecollections.ca/all-ages
******************************************************************************************
.......one of THE BEST reads for ANYONE & everyone right now is this ALL-AGES title:
.
.
.
TELLING THE STORY OF A PRINCESS UNLIKE MOST YOU'VE EVER ENCOUNTERED......CURIOUS, FAR-FROM-MEEK, AND EAGER TO EXPLORE & LEARN ABOUT THE 'OUTSIDE WORLD' BEYOND MOST FAIRY TALES....
.....EVERYTHING YOU'D WANT IN A PERFECT GIFT OF A PROACTIVE FIRST-EVER-COMIC-BOOK FOR SOMEONE...
.
One of the BRIGHTEST STARS in ALL-AGES STORYTELLING the comics medium has produced in a long time is...
PRINCELESS
from newer publisher
Action Lab Entertainment
....it tells an empowering story of the ambitious young...
Princess Adrienne,
....who decides she has spent far too much of her time locked in a clichéd 'fairytaled' tower... :o(
Tired of waiting for her Prince to rescue her, she decides to save herself and, along with her guardian dragon Sparky, liberate & educate both other princesses who are locked away in towers, and misinformed princes throughout her repressed 'traditional-tall-taled' kingdom...
Adrienne, as the main character, is a curious spunky girl mature beyond her years, first seen with her mom, a queen, reading a typical unrealistic fantasy story involving a prince most of us have b...
Cleverly written by Jeremy Whitley with perfectly suited artwork by M. Goodwin, Princeless is a refreshing brand of matterable fun seldomly seen in the comics medium...
Engagingly captivating for a wide diverse audience, Princeless works on so many levels its existence could prove a powerful turning point in comics history as a kickstarter which influences a return to embracing the traditionalist 'EVERYONE's INVITED' mantra*[SEE Below] comic books have been longtime known as....
Societies change, embracing that which betters itself, and Image Collections welcomes the newfound era of positive examples of regular, & sometimes even monthly, titles which dazzle the imagination, no matter the age of their reader...
We must all do our part in bringing the potentials of our historic, yet very modern medium of comics, or sequential arts, to a world of global future, wide-eyed, ready to READ, & EXPERIENCE future of next generations to come...
Princeless is priceless, rich in content, context, & value to all!
An extremely important, almost essential read for both girls & boys that will delight & inspire, pleasing for new readers or fans of fairytales, the Fables comic book series, Shrek, and The Princess Bride.....
..
GLYPH COMICS AWARDS WINNER----'STORY OF THE YEAR'
"Best Writer", "Best Artist", "Best Female Character" and "Best Cover"
2012 EISNER AWARDS**[SEE Below] Nominated:
"Best Single Issue" and "Best Publication for Kids"

..
.
* The Word MANTRA [in this case] means a SLOGAN...or CATCHPHRASE...'words to be defined by'---<<I.C.-WORD-helper >>
** The EISNER AWARDS are like the ACADEMY AWARDS for COMICS!!....They have to be REALLY GOOD...just to be nominated!!---<<I.C.-WORD-helper >>
------------------------------------- MORE TO EXPLORE: ---------------------------------------
Reading Comics PAGE == Collecting Cards PAGE == Playing Games PAGE == Other Fun Stuff PAGE Free Comic Book Day PAGE == Art Group PAGE == Local Talent PAGE ==24 Hour Comics Day PAGE All Ages PAGE == EVENTs PAGE == Store Hours PAGE == Contact Us PAGE == Directions.2.Us HISTORY of Image Collections PAGE ==Streetsville= B&H = Posters PAGE == Home PAGE ==

------------------------------------- & AS ALWAYS MORE TO COME -----------------------------
.
---
fun fun fun/....
........
..
.
.
FANTASTIC ALL-AGES READING makes sense all around ,
as easy-going sometimes cottage-bound stories to share, as lighthearted extentions of a fondly remembered MOVIES & TV SHOWS, or as FUN STARTER-READS for those struggling to learn English [regardless of age], COMIC READING has long earned a place in most lives......
Endearing memories of catching up with the LATEST-ISSUE of heartfelt favorites, scrounging for pocket money, begging for more chores [...had to be WELL MOTIVATED for THAT to happen, right?!?... ;o], and the eye-popping DISCOVERY of a new friend who ALSO READS and is WILLING TO TRADE......
Finding the right people to READ WITH [...we encourage 'PARENTS & GRANDPARENTS' as your 1st choice!!!... :o] enables you to share a unique, smart, real-world experence where there's ALWAYS ROOM for timeouts and milk & cookies....
Not only are COMICS FUNNER THAN EVER, with literally millions to choose from over a history of 100+ years, but they are easily the most ACCESSIBLE MEDIUM by far as.....
ANYONE CAN MAKE A COMIC BOOK......including YOU!!!
No fancy technology needed, expenses are HUGELY AFFORDABLE.....
[...can you say "Less Than $1!" ....we knew you could!... :o]
.....with most items lying around the house right now as you are reading this....
...
....
...
...
...
.
.........
..
..
............
....
....
....
....
.........
Throughout the ages, & obviously we mean COMIC BOOK AGES, the original 'funnybooks' have succeeded in AMAZING the youngsters, ASTOUNDING parents [...many times baffled by the strict attentions paid to it rather than "lowly-schoolworks"... ;o], & in many ways AMUSING those in-the-know by the vast measurements in which the medium is UNDERESTIMATED, UNDERUSED, & UNAPPRECIATED as an educational arts tool .....
superhero comics have come [1930s - 1940s] & gone [late 40s - 1950s] & come back [1960s on...] again
...
.
.
..
..
.
....
...
...
.
....
....
..
..
..
..
.
.
..
..
REMEMBER the THRILL of YOUR VERY OWN ARCHIE COMIC?!?
Why not pick one up for someone in YOUR LIFE today!!!...
.
GET KIDS READING.......for FREE!!!! [....details below...]

Image Collections

has an exciting ALL-AGES SECTION with a WIDE SELECTION of all THE BEST in FAMILY-FUN-READING with GRAPHIC NOVELS, COMICS, and BOOKS...
.
.
.
.
.
.
.
......
.....DON'T MISS:
------FREE COMIC BOOK DAY......A perfect launching-pad for a new reader to experience the lifelong thrill of reading!
[ FREE COMIC BOOK DAY IS ALWAYS the 1st SAT IN MAY ]
------The STREETSVILLLE SPOOKTACULAR.....is every OCT!
.
.
..
...
.
...
.
.
..
.
.
.
.
.
.
GIVE KIDS FREE PERFECT READING EVERY YEAR......
with....
.....GIVE

SPECIAL-MIN-COMICS

OUT as 'TRICK or TREATS'.....
...for MORE INFO on special upcoming ALL-AGES COMICS visit:
.
......